Furniture addon [Minecraft PE 1.2+]
<!— Body22 —>

You'll not find a better add-on that adds functioning furniture to Minecraft Pocket Edition. In fact, this is the best add-on for you if you want to equip your house and add a bit of coziness. There are 6 items and 1 mob available with which you can beautifully decorate any room. I agree that MCPE mods is much more impressive and brings in a bunch of new furniture and ornaments, but do not forget that this is just an add-on which means limited functions and very quick installation.
Created by Kiritocris55
– 08.27 upd:
Updated for Minecraft (PE) 1.2.
No new furniture, only bug fixes.
New furniture and items:
Fridge can hold 27 items similar to chests. If you have a lot of food then this thing will free up a lot of space in your house.
Kitchen stove is designed for instant cooking of meat. You will need a small farm to get raw meat in case you are not a vegetarian.
Trash can help you remove all the garbage that you're bored with.
Small table and chairs are made in different colors and can be used for the intended purpose. Place several chairs and a table so that the kitchen becomes a full part of the house.
Forge is a very valuable thing because with its help you can extract expensive items from crushed coal.
The seller is a portable online store where you can make purchases and instantly receive the purchased goods. Visit any village and you will definitely find a seller.
Getting furniture:
This is a fairly simple process that takes up at least your time. All of the above items are not added to the creative inventory and can not be crafted so you will need to complete only a few steps to get the thing.
First, take the forge that replaced chicken eggs. Throw one of the eggs at any place and go to the second step.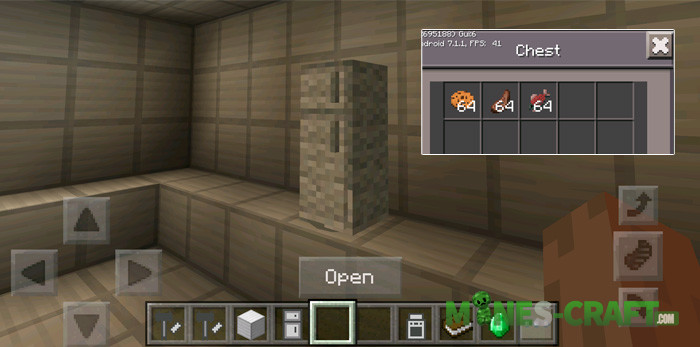 All the furniture are dyes, choose any and tap on the forge, after that you will see a transformation. This is a very simple and convenient way, add-ons do not allow you to do it better.
Furniture add-on installation:
Download the archive and unzip it.
Move the Modern_Tools_Resources folder here: /games/com.mojang/resource_packs/.
Move the Modern_Tools_Behaviors folder here: /games/com.mojang/behavior_packs/.
Run Minecraft PE and select the addon in the game settings.