Toy Soldier Add-on
<!— Body22 —>

This add-on is very similar to the old computer game, where you control a small squad consisting of toy soldiers. Defeat all enemies and lead your team to victory is the number one task. The Toy Soldier Add-on has no analogues, because not every add-on for Minecraft PE can boast of such interesting features.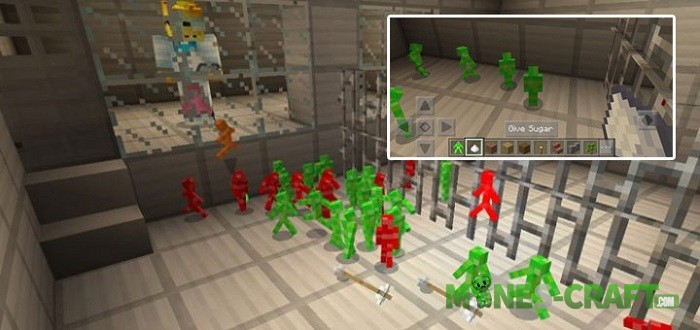 Description begins with the fact that the addon adds 4 teams of soldiers. Each team has a certain color as a distinctive sign and the whole team is fighting together against the enemy. Remember that one team will attack any other team until all the soldiers are defeated.
It is important to mention that there are 5 classes from an ordinary soldier to a wizard.
Available kits:
Standard soldier is a regular infantryman, he requires only a spawn
Silent Assassin – he is faster, but his health is not so strong (sugar)
Pikeman – he's rather slow but very strong (one arrow)
Wizard – uses fireballs as the main weapon for attack (one blaze rod)
Medic – helps his team but does not know how to fight (one bone)
Rider is a combination of a soldier and a horse, but it only works when the enemy is very close (one horse spawn egg)
If you think Minecraft PE will bug after spawning several dozen soldiers, then this is not so. All models of soldiers are simplified, only the form and color are left, the remaining textures have been removed. This has led to the FPS falls not so much even if you spawn more than 50 soldiers.
 Toy Soldier Add-on installation:
Download the file and open it via Minecraft PE.
Turn on the addon in the game settings.