SlePE's Furniture Mod – Apartment Renovation [MCPE]
<!— Body22 —>

This is the first Inner Core mod that adds furniture to Minecraft PE. You no longer need to improvise and combine several objects and blocks to get some kind of table or lamp. Sle's Furniture is actively developing, the author promises many electrical appliances in the next update.
Created by SlePE
Apartment Renovation Update
This is a global update adding new furniture and updating existing ones. You should remove the old version and install a new one before starting Minecraft PE.
Kitchen Renovation items
Kitchen tables – 10 tps
Coffee tables – 10 tps
Stools – 6 tps
Stove
Dishes  – 6 tps
Kitchen panels – 5 tps
Dishwasher
Microwave
Food basket
Napkin folding
Kitchen exhaust fans
Fridge
Toaster
Candlestick
Bathroom Renovation items
Shower cabin
Bathtub
Wash basin
Toilet
Heated towel rails
Table lamp
In this update, you can only use a few items, soon there will be more functionality and animation.
Well, for now you can use an electric stove, a lantern, tables and a candlestick. What works from this list? The candlestick and the lantern emit light that is a replacement for bulky luminous blocks, and the electric stove can fry the meat and also convert the found ores into ingots.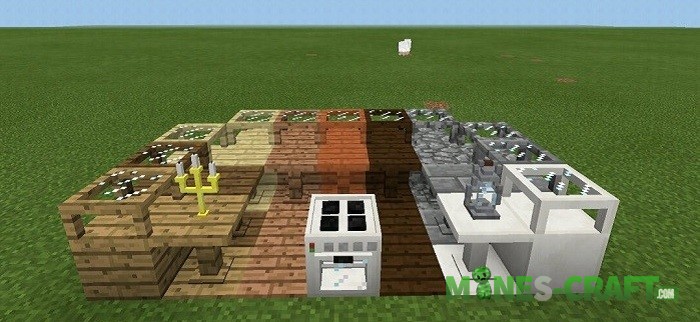 Sle's Furniture Mod installation
Install

Inner Core.

Copy the SlePE Furniture Mod folder to the mod folder (/games/com.mojang/mods/).
It only works on Android, unfortunately Inner Core doesn't support iOS.